The Rohde & Schwarz CMU200 Universal Radio Communication Tester is part of a complete range of mobile radio test equipment, encompassing everything from conformance test systems to system simulators, turnkey functional board test/final test systems and simple sales-counter Go/NoGo testers.
The base unit with its standard-independent module test provides many general purpose measurement facilities for the development of all kinds of standards within its wide and continuous frequency range. If extended by the appropriate options, the Rohde & Schwarz CMU200 Tester offers the hardware and software necessary to handle your 3G, 2.5G and previous generation testing applications, including analog.
The completely modular design of hardware and software components in the Rohde & Schwarz CMU200 Tester eliminates unnecessary investments right from the start merely because a feature might be needed at some point in the future.
If an expansion becomes necessary because your needs grow, the modularity of the Rohde & Schwarz CMU200 Tester concept will make this easy. Many expansions may be installed on site. You pay for them only when you need them.
The Rohde & Schwarz CMU200 Tester brings premium cost effectiveness through a variety of features, with extremely fast measurement speed and very high accuracy being the two most important ones. In addition, the secondary remote addressing of the tester's modular architecture makes for intelligent and autonomous processing of complete measurement tasks and fast control program design.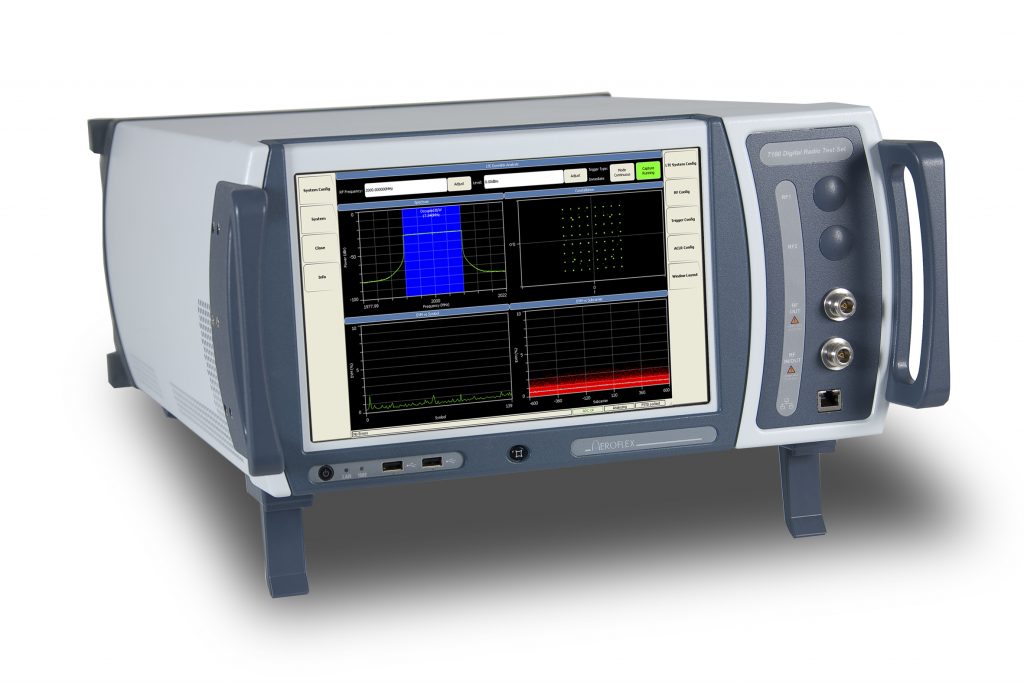 Description
Aeroflex 7100 LTE Network Emulation 6 GHz Digital Radio Test Set with the following:
Firmware Number 656
Software Version 7xxx Instrument Software v20.1.0.0
Options installed

1 2 x Cell
100 (Baseband) LTE TDD Mode
101 (Baseband)Fading and AWGN
102 2×2 MIMO and Measurements
150 (VAG) LTE FDD UL Analysis/Generation
151 (VAG) LTE FDD DL Analysis/Generation
155 (VAG) LTE FDD UL Analysis/Generation
400 (Baseband) RF Test Case
500 (Baseband) Development Mode
501 Call Box Mode Software
901 Protocol System
902 Development system
High performance LTE network emulator used for testing the RF, baseband and protocol layers of wireless devices supporting multiple Radio Access Technologies.
The Aeroflex 7100 Digital Radio Test Set provides all the tools required during the design, development and test stages of UE chipsets and terminals meeting 3GPP Rel-8 and Rel-9 standards.
The 7100 Digital Radio Test Set is used by RF developers, protocol stack teams, integration test groups and pre-conformance labs that are developing sub-systems and integrated designs that meet the requirements of the LTE standards. These teams benefit from the ease of use, comprehensive test capability, speed and low cost of ownership offered by the 7100.
The 7100 also supports a Service Test Mode customized for the service market, allowing field-returned devices to be rapidly screened prior to return to vendor or return to the end user. In Service Test Mode the 7100 is used with Lector software.
LTE FDD and TDD signaling network emulation
Protocol Development, Call Box and Service modes of operation
6 GHz frequency range, covering all LTE spectrum allocations and bandwidths
Protocol logging and analysis
Multi-cell and Inter-RAT handover support
Multi-RAT testing: LTE, eHRPD, 1xRTT, GERAN, HSPA and TD-SCDMA
Functional testing
End-to-end IP packet data test
Integrated Fading/AWGN option
MIMO 2×2 and 4×2, Open Loop, Closed Loop and Transmit Diversity
Key Features & Specifications
Fast RF frequency and level settling for high speed testing
High performance vector modulation for improved component test
Optional dual channel arbitrary waveform generator (ARB)
Low adjacent channel power for receiver selectivity and amplifier linearity testing
Fast GPIB response to maximize ATE system performance
IQCreator RF waveform creation software
Wide bandwidth FM and AM modulation capability
Optional high speed pulse modulation capability
Compact, lightweight package
Simple-to-use touch panel interface
Description
The IFR 3414, 250 kHz to 4 GHz Digital RF Signal Generator, provide peak output power of up to +16 dBm. With a level resolution of 0.01 dB, repeatable and accurate testing of wireless components can be performed.
The 3410 series are portable, lightweight signal generators covering a wide range of carrier frequencies to 6 GHz. High quality analog and vector modulation capabilities make these signal generators ideal for research, development and manufacturing applications.
Careful attention to the design of the modulators and the RF system ensures that these signal generators exhibit low levels of adjacent channel power, making them suitable for the most demanding amplifier linearity and receiver selectivity measurements.
The use of IFR fractional N synthesis techniques, combined with fast level control and an electronic attenuator, ensures the 3410 series signal generators are both frequency and level agile for high speed ATE testing.

The 3413 is a 3 GHz RF Generator from IFR . An RF generator is a tool engineers use to generate sinusoidal outputs while testing electronic equipment. The output will automatically have its frequency varied or swept between frequencies. A "sweep" is one complete cycle of a frequency variation. Engineers use RF signal generators as test equipment, mostly to measure responses of filters, amplifiers, and electrical components.

LTE-Advanced DL CA 以及 LTE 行動終端的 RF 測試
針對 RF Tx 主要測試項目做批次測量
同樣支援 RF Rx 的測試項目
優異的操作性,減少產線測試和維護的時間
可向下相容至 MT8820A/B
Parallelphone™ 測量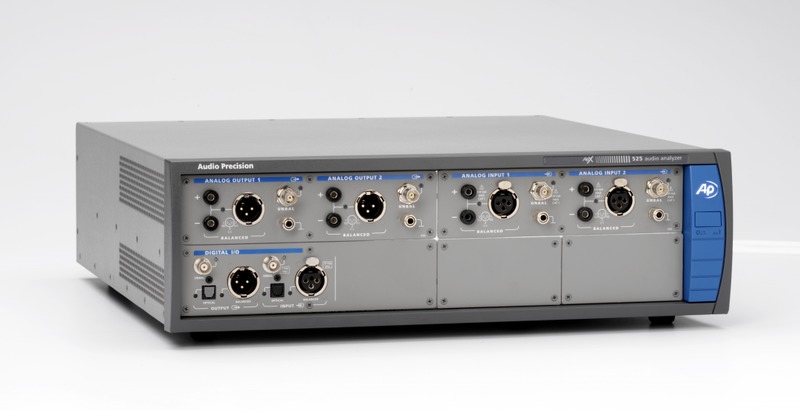 APx525 has two balanced and two unbalanced analog inputs and outputs plus 216k digital inputs and outputs via AES/EBU, TOSLINK and SPDIF. APx526 is the four-channel version of the APx525, developed for the four channel head units typical of the automotive audio industry.
Additionally, I/O may be expanded with optional Digital Serial (APx525 and APx526), HDMI + ARC (APx525), PDM (APx525 and APx526) and Bluetooth (APx525 and APx526) modules. Additionally, the optional Advanced Master Clock (AMC) module handles input and output clock signals to synchronize the APx52x Series with external equipment (or vice versa), and the AMC also enables jitter generation and analysis (in conjunction with Advanced Digital, Digital Serial or PDM modules).

主要技術規格
彈性架構,選配的升級方針
可選擇電子或機械式衰減器
優越的位準準確度
寬頻 FM 與相位調變、AM 與脈衝調變
步進掃描 (頻率、功率與清單)
內建函數產生器
主要技術規格
效能
0.4 dB 總振幅準確度
+16 dBm TOI
-166 dBm DANL,加上內部 preamp
1 Hz 窄解析度頻寬 (選購)
量測應用
相位雜訊、雜訊指數、GSM/EDGE、cdmaOne 等等 量測應用
包含 Power Suite 單鍵式 RF 功率量測
產品特色
分析頻寬為 10 MHz
單次掃頻時,可區段掃描多達 32 個不連續的頻距
堅固耐用的可攜式裝置,可在工作現場展現實驗室級的效能
5 分鐘熱機後,即可達到保證的量測準確度