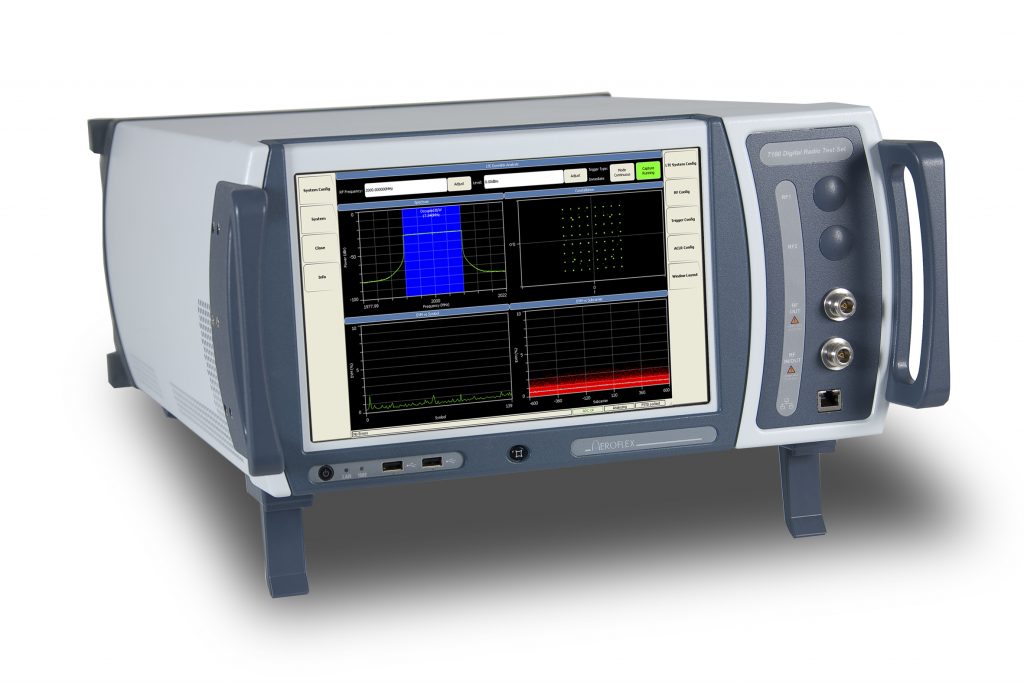 Description
Aeroflex 7100 LTE Network Emulation 6 GHz Digital Radio Test Set with the following:
Firmware Number 656
Software Version 7xxx Instrument Software v20.1.0.0
Options installed

1 2 x Cell
100 (Baseband) LTE TDD Mode
101 (Baseband)Fading and AWGN
102 2×2 MIMO and Measurements
150 (VAG) LTE FDD UL Analysis/Generation
151 (VAG) LTE FDD DL Analysis/Generation
155 (VAG) LTE FDD UL Analysis/Generation
400 (Baseband) RF Test Case
500 (Baseband) Development Mode
501 Call Box Mode Software
901 Protocol System
902 Development system
High performance LTE network emulator used for testing the RF, baseband and protocol layers of wireless devices supporting multiple Radio Access Technologies.
The Aeroflex 7100 Digital Radio Test Set provides all the tools required during the design, development and test stages of UE chipsets and terminals meeting 3GPP Rel-8 and Rel-9 standards.
The 7100 Digital Radio Test Set is used by RF developers, protocol stack teams, integration test groups and pre-conformance labs that are developing sub-systems and integrated designs that meet the requirements of the LTE standards. These teams benefit from the ease of use, comprehensive test capability, speed and low cost of ownership offered by the 7100.
The 7100 also supports a Service Test Mode customized for the service market, allowing field-returned devices to be rapidly screened prior to return to vendor or return to the end user. In Service Test Mode the 7100 is used with Lector software.
LTE FDD and TDD signaling network emulation
Protocol Development, Call Box and Service modes of operation
6 GHz frequency range, covering all LTE spectrum allocations and bandwidths
Protocol logging and analysis
Multi-cell and Inter-RAT handover support
Multi-RAT testing: LTE, eHRPD, 1xRTT, GERAN, HSPA and TD-SCDMA
Functional testing
End-to-end IP packet data test
Integrated Fading/AWGN option
MIMO 2×2 and 4×2, Open Loop, Closed Loop and Transmit Diversity
  產地:
美國
Key Features & Specifications
Fast RF frequency and level settling for high speed testing
High performance vector modulation for improved component test
Optional dual channel arbitrary waveform generator (ARB)
Low adjacent channel power for receiver selectivity and amplifier linearity testing
Fast GPIB response to maximize ATE system performance
IQCreator RF waveform creation software
Wide bandwidth FM and AM modulation capability
Optional high speed pulse modulation capability
Compact, lightweight package
Simple-to-use touch panel interface
Description
The IFR 3414, 250 kHz to 4 GHz Digital RF Signal Generator, provide peak output power of up to +16 dBm. With a level resolution of 0.01 dB, repeatable and accurate testing of wireless components can be performed.
The 3410 series are portable, lightweight signal generators covering a wide range of carrier frequencies to 6 GHz. High quality analog and vector modulation capabilities make these signal generators ideal for research, development and manufacturing applications.
Careful attention to the design of the modulators and the RF system ensures that these signal generators exhibit low levels of adjacent channel power, making them suitable for the most demanding amplifier linearity and receiver selectivity measurements.
The use of IFR fractional N synthesis techniques, combined with fast level control and an electronic attenuator, ensures the 3410 series signal generators are both frequency and level agile for high speed ATE testing.

 

產地:
美國
The 3413 is a 3 GHz RF Generator from IFR . An RF generator is a tool engineers use to generate sinusoidal outputs while testing electronic equipment. The output will automatically have its frequency varied or swept between frequencies. A "sweep" is one complete cycle of a frequency variation. Engineers use RF signal generators as test equipment, mostly to measure responses of filters, amplifiers, and electrical components.

  產地:
美國