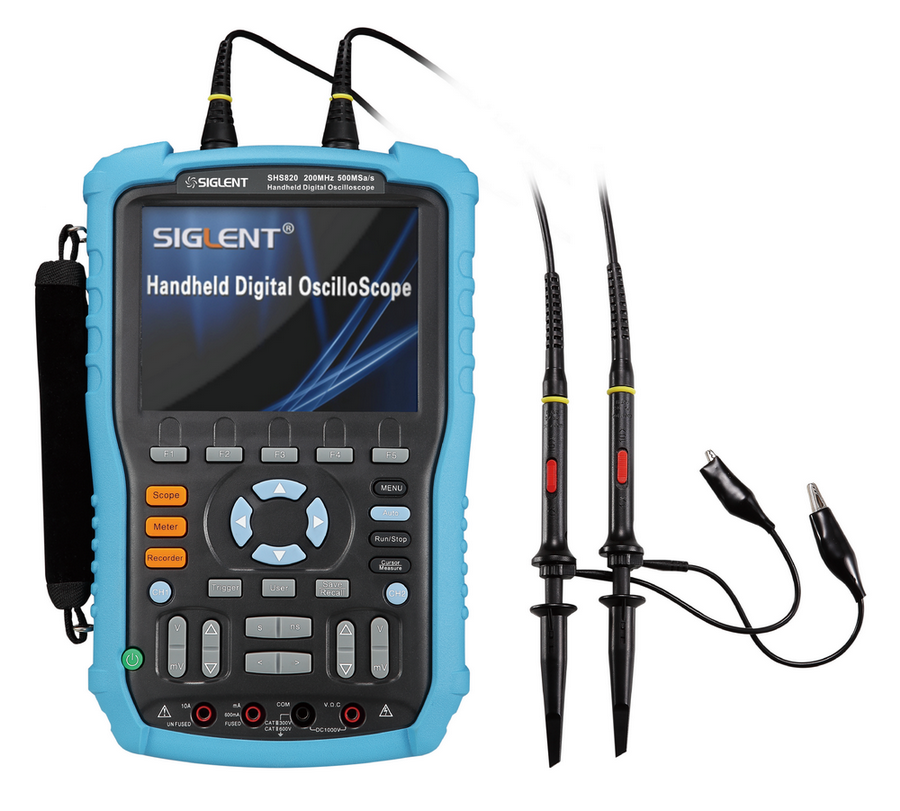 Product Overview
The SHS800-series handheld oscilloscopes provide the user with an oscilloscope, multimeter, and recorder (including trends and waveform recorder) functions all in one package. It inherits the SHS1000 series stable performance and high performance along with the flexibility to use on a workbench or in the field.
Key Features
High-performance oscilloscope
◆ Bandwidths: 60 MHz, 100 MHz, 150 MHz, 200 MHz; Memory depth: 2 Mpts
◆ Real-time sampling rate: 1 GSa/s; Equivalent sampling rate: 50 GSa/s
Data recorder function
◆ 7M internal storage, up to18 hours recording time
◆ USB port, up to 3000 hours recording time
◆ Record, replay and zoom functions supported
High precision multimeter
◆ 6000 count display
◆ Accurate measurement of DCV, ACV, DCI, ACI
◆ Accurate measurement of Resistance, Diode, Capacitance, Continuity
Trend plot
◆ 32 measurement trend plot analyzer
◆ Scope: 800k points capacity, more than 24 hours recording time
◆ Meter: 1.2M points capacity 9320 hours recording time at 0.05Sa/s
售價:SHS820–US$ 648 SHS815–US$ 648 SHS810–US$ 573 SHS806–US$ 465

產地:
中國
Product Overview
Siglent's SHS1000-series handheld digital oscilloscopes take advantage of years of SIGLENT research and development. It adopts many dedicated integrated circuits which allows for a simpler layout, low power consumption and a very small footprint.
Key Features
◆ Completely isolated oscilloscope input channels, isolated between oscilloscope and multimeter channels
◆ Oscilloscope isolation level: CAT II 1000V and CATIII 600V
◆ Combines the functions of an oscilloscope, multimeter and recorder in one
◆ Supports waveform printing and USB storage
◆ 60MHz / 100MHz bandwidth, 2 input channels, 2Mpts memory depth
◆ 1 GSa/s real time sampling rate, 50 GSa/s equivalent sampling rate
◆ Equipped with high precision multimeter, providing multiple functions
◆ 3 kinds of cursor modes, 32 kinds of automatic waveform measurements
◆ 5.7 inches color TFT-LCD
◆ Supports trend plotting and long-duration data recorder function
售價:SHS1102–US$ 1526 SHS1062–US$ 1259
產地:
中國